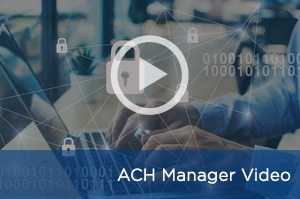 We are excited to announce ACH Manager will undergo visual enhancements on Tuesday, June 25, 2019. While your functionality, templates & history will remain the same, the location and naming of various options will be updated to improve your navigational experience.
In preparation of this change, we have updated our ACH Manager Guide with screen comparisons of the before/after. Please review this resource at your convenience to learn more about the upcoming changes.
Key Highlights Include:
ACH Manager will continue to be accessed by clicking ACH within the Payments & Transfers screen
Previous ACH activity and history will remain available in the system
Up to the 20 most recent ACH transactions are automatically displayed on the Activity tab
Updated search functions on the right side of the screen will allow you to limit or expand your results based on a variety of criteria
A new ACH transaction can be created by simply clicking New Payment, New Collection, or Import File (NACHA or Non-NACHA)
To create a new ACH using an existing transaction, click "Copy" from the existing transaction to create a new transfer
To change an ACH transaction that has not completed processing, simply click the "Edit" button on the transfer you wish to edit
If you want to delete a file, click the "Delete" option
The "Edit" and "Delete" buttons will only appear on transactions eligible to be edited or deleted
Check the "Repeat" box in an ACH file to create a recurring entry
ACH files requiring approval will be displayed on the Vantage Business Online home page for users with approval permission.
The button to process an ACH file has changed. The "Process" button has been replaced with a "Complete ACH" button.
Please contact our Treasury Management Support Team at (877) 627-9099 if you have any questions.