Easily detect fraudulent, altered or counterfeit checks with Vantage Bank Texas's Positive Pay service.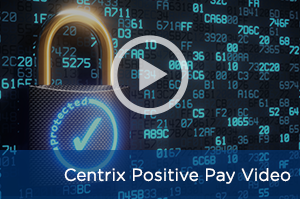 ---
Positive Pay Features
To proactively protect your account(s) from fraudulent or altered checks, this service allows you to enter or upload your check issuance information (check #, date, amount, and account) via Business Online Banking, prior to releasing the checks for payment.
When your checks are presented for posting, we will compare the incoming item with the information you provided.
If the item details do not match, an exception will be created and email notification is sent to designated users notifying them of the exception.
Simply log into Business Online Banking that morning to review the item(s) and advise the bank to "pay" or "return" the item(s) before the 12:30 pm (CST) cut off. Any items you do not decision, will be paid.
To further protect your account(s), any check presented for payment at a Vantage Bank Texas location that cannot be verified via the Positive Pay system, will not be negotiated. The check will be returned to the individual presenting the check, with instruction to refer back to the maker of the check.
---
Positive Pay Benefits
Reduce potential check fraud
Receive immediate notification of exceptions
Review and decision unauthorized transactions
Increase efficiency by managing this service online
Reporting tools available to identify issued, outstanding and paid checks
---
Contact a Treasury Management Specialist to get started with this service.
Disclosures:
Positive Pay service is subject to the acceptance of the terms and conditions related to such service.  Fees apply.