Bill Pay service is the fast, easy way to pay any bill online, anytime.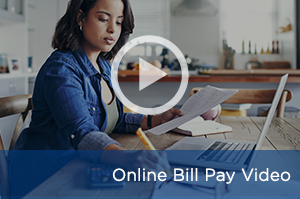 ---
In most cases, we will send your payment electronically. Otherwise, we write the check; we pay for the stamp; and, we drop the payment in the mail for you. Vantage Bank Texas guarantees your payment will arrive on time or we will refund any late fees or finance charges. Best of all, this service is provided free of charge for all personal checking accounts with no account balance minimum or transaction limitations.

No more having to remembering multiple passwords or having to log on to different websites to pay different vendors. Online bill pay can assist in eliminating errors, making the management of your debt that much easier.
---
How To Enroll
Enroll to Vantage Bank Texas's Bill Pay Service by accessing your online banking account and selecting the bill pay link located at the top of the page. Begin sending payments right away by simply registering all your payee information. It's that simple.
---
With Vantage Bank Texas's Bill Pay, you can:
Send payments to any company or individual in the United States
Send payments electronically, if possible, or a check is mailed
Provide flexible scheduling for automatic payments
See your account balance as you pay your bills
Move money to accounts held at other banks
Guarantee that payments arrive on time or we will refund any late fees and finance charges.
---
Contact a customer service representative to get started with Online Bill Pay.