Popmoney® is an innovative banking service that allows you to pay people without the hassle of writing checks or using cash. All you need is their email address or mobile phone number.​ It's just one of the features of our new and convenient online bill pay.​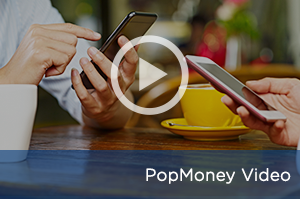 ---
Popmoney® Benefits
Paying the baby sitter, your best friend or your membership dues just got a lot easier. With Popmoney® from Vantage Bank Texas, sending money or collecting it is as simple as sending an email. It's convenient, fast and secure.

Convenient - Send money from your Online Banking account to an email address or mobile number.
Fast - Send next day or 3 day payments. Pay rent to a landlord, send money to your child at college, without ever writing and mailing a check or even having to visit the recipient's financial institution.
Secure - Popmoney® uses SSL encryption which ensures that your connection and information are secure from outside inspection.
---
Contact a customer service representative to get started with Popmoney®.